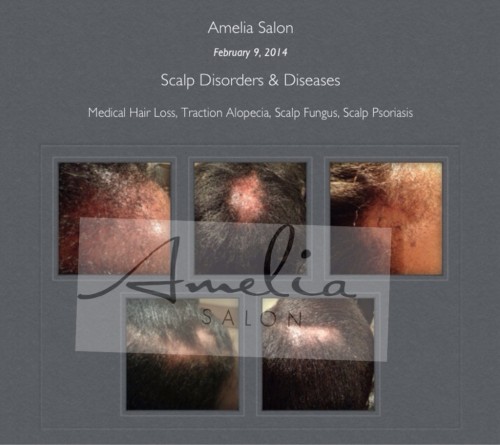 Trichology is a para-medical field that pairs with dermatologist and medical doctors using a holistic approach. It is the study of the hair and scalp, as well as, its disorders and diseases. Where did trichology come from? Studies began in London, England in 1902 and since then have become more popular in Australia, South Korea and the United States. Trichology is taken from the Greek word "tricho" meaning "hair" and is the branch of medicine that has to do with the anatomy, growth and diseases of the hair. Although, trichology is not that new to the U.S. more people that deal with hair loss are becoming aware of this field.
Sally Evans, Owner of Amelia Salon, is a a Certified Trichologist Practitioner. She attended and graduated from a Trichology Institute in the United States. She has successfully consulted several hundreds clients, referring them to licensed Dermatologist for various medical conditions.  She actively works with local Dermatologist in treating clients with various medical condtions, to include: Androgenic Alopecia, Dermatitis, Psoriasis, Traction Alopecia, Dry Scalp, Dandruff, and Damaged hair.
She also actively mentors other cosmetologist, and recent Trichology graduates in providing special services to clients with special scalp disorders, diseases, and medical hair loss. In addition, she continues to attend conferences, and participates in continuous education programs to stay current with the latest developments in the industry.
Who are Trichologist?
Trichologists are licensed cosmetologist, nurses, dermatology assistants and or barbers that have taken courses at a Trichology Institute, interned under a doctor or hair loss clinic and have passed a written proctored exam to become a certified practitioner. Trichologists are passionate about learning, and using what they know to help people. They regularly attend educational seminars and educational conferences to stay current on the latest innovations.
What does a Trichologist do?
A trichologist will give a prognosis, identify and treat all forms of hair loss, hair shaft breakage and scalp disorders. They often see the first signs of imbalances that relate to the hair and scalp. Also, a trichologist will give a thorough consultation along with a hair scalp scan (HSS) with a specialized microscope to determine what treatments would be necessary. If the underlying cause of the condition is out of the scope of the trichologist, then the practitioner will refer the client to specific medical doctors. Here is a list of disorders and diseases that a trichologist will see on a day to day basis: seborrhea dermatitis, patchy hair loss, chemical damage, traction alopecia, alopecia, trichotillomania, psoriasis, eczema, male and female pattern baldness, dandruff, hair breakage, hair loss, hair thinning, dry, oily and or itchy scalp. A trained trichologist will look at the body as a whole and consider both internal and external factors for a possible solution.
If you are suffering with medical hair loss or a scalp condition, and you need a cosmetologist that is trained to meet your needs, Amelia Salon can help.