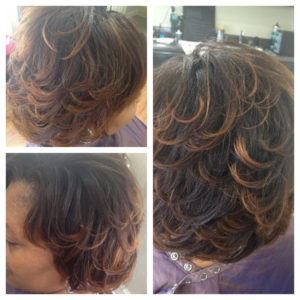 Are you new to the Montgomery, AL area? Are you Black or African-American, and looking for a hair salon that is tailored to your needs, but can't seem to find a decent salon anywhere? Or, have you been referred to a few salons by friends, co-workers, or family members with disastrous results?
Finding a salon to entrust the crown of your beauty to can be tough. And more often than not, the search leads to nightmare experiences and weeks of frustration from bad styles, damaged hair, or less than professional customer service.
By the time you have a few horrible experiences, you either attempt to do your own hair; or you end up doing one or two unthinkable things. I'm pretty sure you have an idea, but for those of you who don't know – let me fill you in. Most of the time, you'll end up making 1 of 2 mistakes:
1. Going to a Department Store Salon
2. Or, unknowingly going to an unlicensed black hair salon.
Dept Store Salons are like fast food restaurants…
I'm sure you've heard the countless horror stories of women venturing into department store hair salons, and coming out with either less hair, chemical burns, or a bad style. There are some decent stylists in these stores, but the products they use are not designed for black hair, and the stylists tend to be inexperienced. If you were to take a poll, you'd quickly learn that most are only a few months to a few years removed from receiving their basic cosmetology license. The main reason for this is the pay structure for department store stylist, it's based on commission which leans heavily in favor of the store, not the stylist. The best and brightest stylists leave for better opportunities, leaving behind the lesser experienced and lesser talented folks. It works just like a fast food restaurant. One day you're getting great service by folks you know, then the next week you don't recognize anyone. Don't do it, your hair deserves better.
…and unlicensed Black hair salons are dangerous.
The most important questions you must ask before you walking into any Black hair salon in Montgomery AL is:
1. Are the stylists Licensed Cosmetologist in the State of Alabama?
2. Is the salon registered with the Alabama Board of Cosmetology?
If the answer is no to any one of these questions, hang up the phone or walk away! In this city, there is a big problem with non-licensed/non-trained people deciding they want to open a salon. I would estimate that approximately 80% of Black salons in Montgomery AL would answer "No" to at least one of the questions above. This is important because if a non-licensed stylist or salon damages your hair, you have no recourse! There is no governing body outside of small claims court to protect you. The Alabama Board of Cosmetology is there to protect your safety and your health. They regularly inspect salons for violations, and ensure all stylists have the proper credentials and training to practice. You wouldn't eat at a restaurant that hadn't been inspected by the Department of Health, so why risk going to a salon that isn't overseen by the Alabama Board of Cosmetology? Your health is important, don't take it lightly – protect it.
Don't take chances with your hair!
Come to a professional and experienced Black hair salon. Our stylist, Sally Evans, is a Cosmetology Instructor, licensed with the Alabama Board of Cosmetology. She has over 21 years of experience behind the styling chair, and training other stylists. As a Certified Trichology Practitioner, she knows and understands what it takes to help you grow and maintain beautiful hair. She can show you how small changes in your diet and nutrition, can help you improve your hair and your overall well-being.
So if you're looking for a professional (African-American) Black hair salon in Montgomery AL, look no further – Amelia Salon is the place for you!